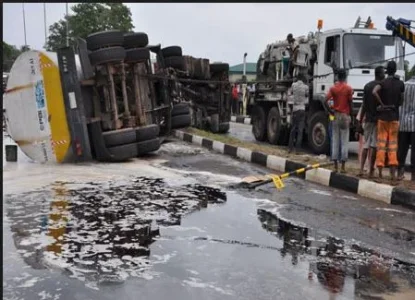 A fully loaded fuel tanker fell around Akinola Street and its environs in Aboru of Agbado Oke Odo Local Council Development Area of Lagos as residents take to their legs;
The accident was said to have occured in the early hours of Friday.
Eye witness account claimed that the fuel tanker was trying to climb the hilly road, linking the community to a nearby fuel station, in the community, where the tanker was headed, when the accident occured
According to Tribune, men of the Lagos State Emergency Management Agency (LASEMA) had already cordoned off the place, forcing motorists and other road users to make do with adjoining roads.
"We are waiting for another tanker to enable us evacuate the contents of the fallen tanker. The agency is actually on top of the situation," said a LASEMA official, at the scene.