Nigerians are going to the polls to elect a president, with incumbent Goodluck Jonathan facing a strong challenge from Muhammadu Buhari.
Delays and technical problems were reported at the start of the election, said to be the most closely fought since independence.
It was postponed from mid-February to allow the army to recapture territory from Islamist Boko Haram militants.
The two main candidates have pledged to prevent violence.
By 12:30 local time (11:30 GMT), 81% of polling stations were open, according to the Transitional Monitoring Group (TMG), the largest body observing the elections.
Voters need to register first using biometric cards with their fingerprints before they can cast their vote later.
However, at some polling stations, card readers are working slowly or not at all.
President Jonathan tried for some 50 minutes to register in his home village of Otuoke. A BBC reporter at the scene says he had to come back a second time and when the electronic registration failed again, he had to be accredited manually.
Problems were also reported from the north's biggest city of Kano, where thousands of voters waited for election officials and voting materials to arrive.
"We've been here since six o'clock and now it's half-past nine," Ismail Omar, a 65-year-old builder told AFP news agency.
"No-one has shown up from Inec (the Independent National Electoral Commission)… this is a deliberate attempt to sabotage the elections."
But Gen Buhari registered in his hometown Daura without any problems and he praised the accreditation system.
"If people are allowed to vote, rigging will actually be impossible under this system," he said.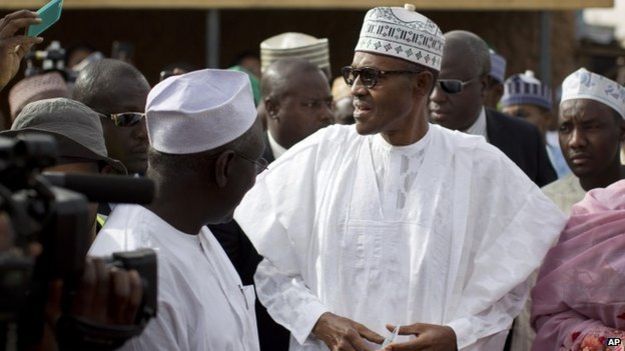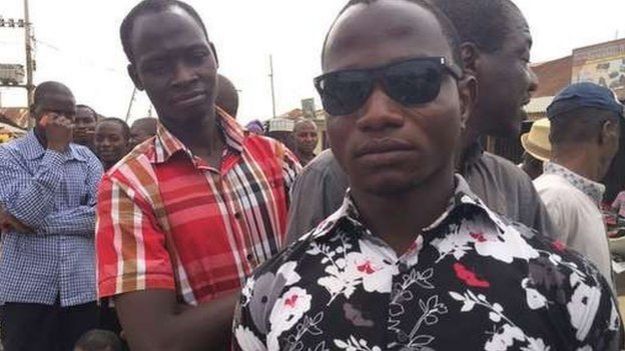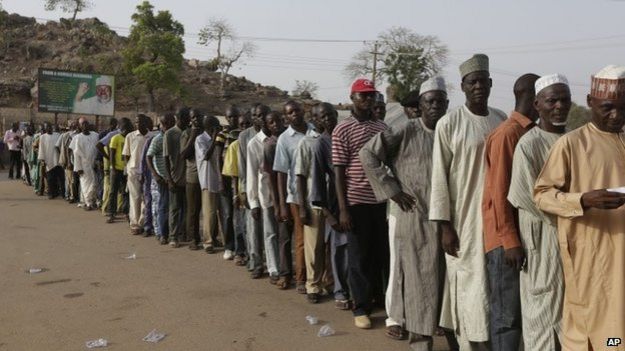 You need a lot patience to vote here. At one polling station in Abuja, the queues are long with women and men lining up separately, all clutching their new voter cards.
As in many parts of Nigeria there have been some logistical problems with electronic card readers – and this is slowing things down.
Up in north-east Nigeria people who have had to flee their homes because of the jihadist insurgency are voting in the camps where they now live. There have been fears that Boko Haram might carry out attacks to sabotage the poll.
---
As millions of voters queued outside polling stations, the website of the Independent National Electoral Commission (Inec) was briefly hacked.
A group calling itself the Nigeria Cyber Army placed a message on the website warning Inec not to rig the elections before normal service was resumed.
In other incidents on election day:
– Suspected Boko Haram gunmen kill two at polling station in Gombe state, AFP reports
– Controlled car bomb explosion at polling station in Enugu state after the authorities discover a car bomb
– Election monitors intimidated and chased away from three polling station in the south, TMG says
---
Nigeria at a glance:

Two main presidential candidates:
Muhammadu Buhari, All Progressives Congress (APC), Muslim northerner, ex-military ruler, fourth presidential bid
Goodluck Jonathan, People's Democratic Party (PDP), Christian southerner, incumbent president, second-term bid
Years of military rule ended in 1999 and the PDP has been in power ever since
Nigeria is Africa's largest economy and leading oil producer
With a population of more than 170m, it is also Africa's most populous nation
Unpredictable poll
Nigeria decides 2015: Full coverage
---
Voters in 36 states and the Federal Capital Territory of Abuja – the capital – will also elect members of the house of representatives and the senate.
The People's Democratic Party (PDP) has dominated Nigerian politics since 1999, but Gen Buhari's All Progressives Congress (APC) is viewed as a serious challenge.
Some 800 people were killed after the 2011 contest between Mr Jonathan and Gen Buhari, a former military ruler, who alleged fraud.
On Friday, the Nigerian army said it had retaken the town of Gwoza, believed to be the headquarters of Boko Haram, one of the last places still under its control.
Source: BBC News