A 32 year- old Nigerian is in the grip of the police for allegedly kidnapping and raping a 21 year old woman at Ashaley Botwe, near Accra under the pretext of giving her an Eid-ul Fitr present.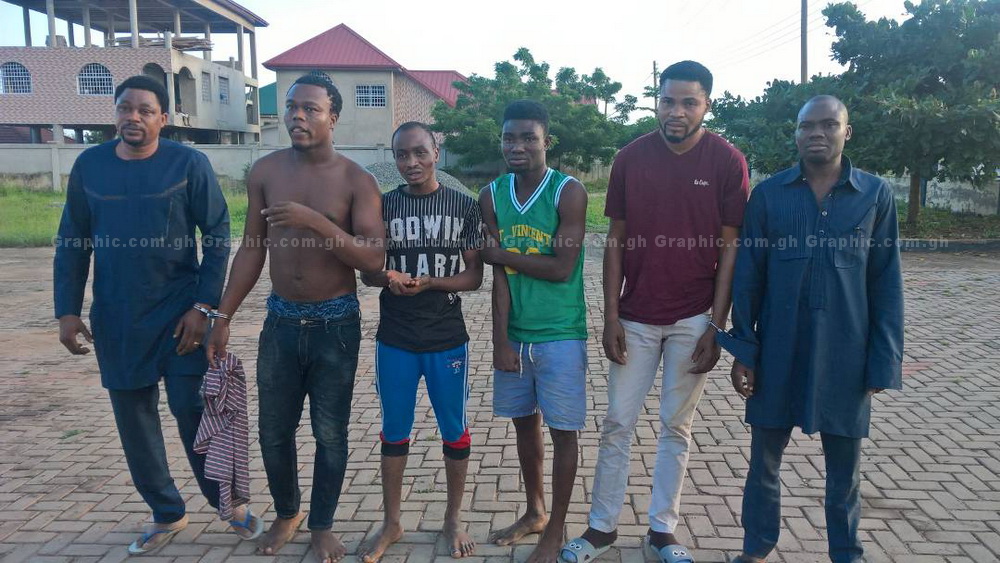 Five other Nigerians alleged to have also assaulted the woman have also been arrested by the police.
They are Ike Amechi, Anthony Emmanuel, Godfred Alex, Koyode Ayodele and Opious Owner
The main suspect, Steven Johnson Chimaroke, was said to have met the woman on Facebook and invited her over to his house at Ashaley Botwe, near Accra where the alleged incident occurred.
All the six suspects have been charged with kidnapping and conspiracy to commit crime
Chimaroke and his five alleged accomplices were said to have initially resisted arrest and made an attempt to bolt leading to the police firing warning shots.
Facebook buddies
Briefing the Daily Graphic, the Accra Regional Police Commander of Operations, Chief Superintendent Kwesi Ofori, said Chimaroke and the young woman were friends on Facebook and had been interacting regularly.
According to him, Chimaroke convinced the lady to come to his house, which was a four-bedroom house where he lived with the five accomplices, for an Eid-ul <\a>Fitr present.
The woman, he said, then left her residence at Nungua Zongo to Chimaroke's house for the said present.
When she got to the house, Chief Superintendent Ofori, said Chimaroke, instead of giving her the present asked her to sleep with him, but the woman refused.
"Chimaroke made advances and when she resisted, he smashed her phone and raped her. Fortunately for her, she had another phone on her, which she used to call her brothers, who later called the police to go and rescue her,'' he said.
He explained that the victim got to the house around 10am but she managed to call her brothers at about 2pm.
During the period, Chief Superintendent Ofori, revealed that Chimaroke raped the woman repeatedly, while the five alleged accomplices mocked and assaulted her
The brothers, he said, called the police and the Alpha Swat Team of the Accra Regional Police Command and the Lake Side Police Command invaded the house to rescue the victim.
He added that the police found a bowl of gari missed with sugar and water which the victim was given as her meal for the day by her kidnappers