President Bola Ahmed Tinubu's defence team will present their oral evidence today at the Presidential Election Petition Court (PEPC).
SML MEDIA reports that in the petition filed on March 21, Atiku Abubakar sought the court's declaration of his victory in the February 25 election or the invalidation of the election with a subsequent rerun.
Atiku's petition included seven key prayers. He asked the court to determine the illegitimacy of Tinubu's victory based on a lack of majority lawful votes and his alleged disqualification from the election.
Furthermore, Atiku requested the court to declare him the winner of the presidential election based on the majority of lawful votes cast. Alternatively, he urged the court to order the Independent National Electoral Commission (INEC) to conduct a run-off election between him and Tinubu.
President Tinubu has now commenced his defence against the petition filed by Atiku Abubakar and the Peoples Democratic Party (PDP).
Yesterday, the court admitted 14 sets of documents, which were tendered by Tinubu's lawyer, Chief Wole Olanipekun (SAN).
The admitted documents include President Tinubu's educational records from Chicago State University, certified by Jamar C. Orr, Associate General Counsel, Office of Legal Affairs, Chicago State University.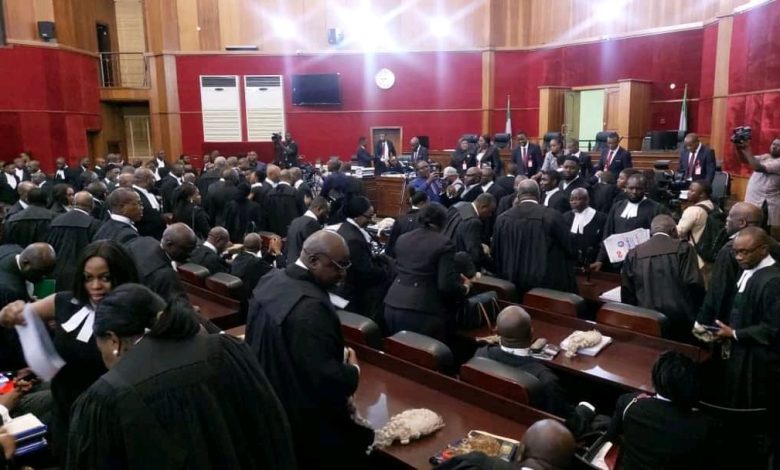 Also admitted is a letter dated February 3, 2003, from the Nigerian Police to the United States Embassy requesting information on Tinubu's criminal records in the U.S.
The court accepted the response from the U.S. Embassy, dated February 4, 2003, signed by Michael Bonner, the Legal Attache, stating that there were no records of criminal convictions, arrests, or warrants for Tinubu.
Additionally, certified true copies (CTCs) of immigration and visa records detailing President Tinubu's trips to the U.S. between 2011 and 2021, were tendered.
Other documents presented include the "Report of the Committee on the Location of the Federal Capital Territory (FCT)," CTC of the originating summons of the suit marked SC/CV/354/2023 filed at the Supreme Court by the Attorneys General of Adamawa, Akwa Ibom, Bayelsa, Delta, and Sokoto states on February 28, 2023.
Olanipekun also submitted a copy of Form EC8D (summary of results from local government areas collation at the state level) for Kano State, a copy of Form EC8D (A) (summary of results from states collation at the national level), and six copies of newspaper publications.
Although the petitioners' lawyer, Nella Rabana (SAN), objected to the admissibility of all the documents, the court admitted them and promised to address the objection in final written addresses.