At least 26 people have been killed and dozens more injured in explosions at Brussels airport and a metro station.
Twin blasts struck the departures area of Zaventem international airport, in the north-east of the city.
Another explosion hit the Maelbeek metro station in the city centre, close to several European Union institutions.
The attacks come four days after the capture in Brussels of Salah Abdeslam, the main suspect in the jihadist attacks in Paris on 13 November 2015.
Where were the explosions?



There were two explosions in the check-in area of the airport at about 08:00 local time (07:00 GMT) on Tuesday.
The Belgian federal prosecutor Frederic Van Leeuw said one of the blasts was "likely" to have been a suicide bomb.
The twin explosions are thought to have been at opposite ends of the check-in area, one near the entrance.

Just over an hour later, a further blast happened at the Maelbeek metro station in the city centre, close to several EU institutions.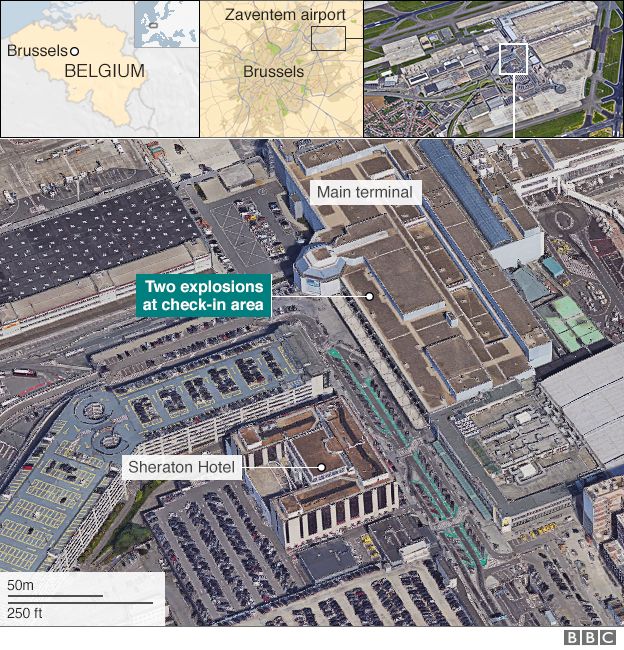 How many people have been killed?



At least 26 people have died in the three explosions. The Belgian health minister said 11 were killed and 81 injured in the airport blasts.
The metro explosion killed 15 people and injured 55, according to transport operator STIB.
Belgian Prime Minister Charles Michel told a news conference "there are many dead, many injured".
"What we feared, has happened," he added. "We realise we face a tragic moment. We have to be calm and show solidarity."
Is Brussels safe?
Belgium raised its terror threat to its highest level following Tuesday's attacks. The national crisis centre urged people to "stay where you are" and instructed schools to keep children inside during their lunch break.
The UK Foreign and Commonwealth Office (FCO) updated its travel advice for Britons in Brussels, urging them to "stay away from crowded places and avoid public transport at this time".


The FCO has set up a helpline for Britons concerned for the safety of a friend or relative in Belgium. The phone number is 0207 008 0000.
A spokesman for travel organisation Abta said British holidaymakers in Brussels should follow the instructions of the Belgian authorities, while those due to travel should contact their transport provider.
Brussels blasts: Crisis information
Is transport still running?
Brussels Zaventem airport closed after the attacks, with all flights diverted elsewhere. Officials say it will remain closed until 06:00 local time on Wednesday.
The city's entire metro rail system was also shut down shortly after the explosion at Maelbeek station while Eurostar has suspended its high-speed rail service to and from Brussels.
Why has Brussels been attacked?
No group has said it was behind the attacks but Belgium's Interior Minister Jan Jambon said on Monday that there was a threat from revenge attacks after the capture of Salah Abdeslam.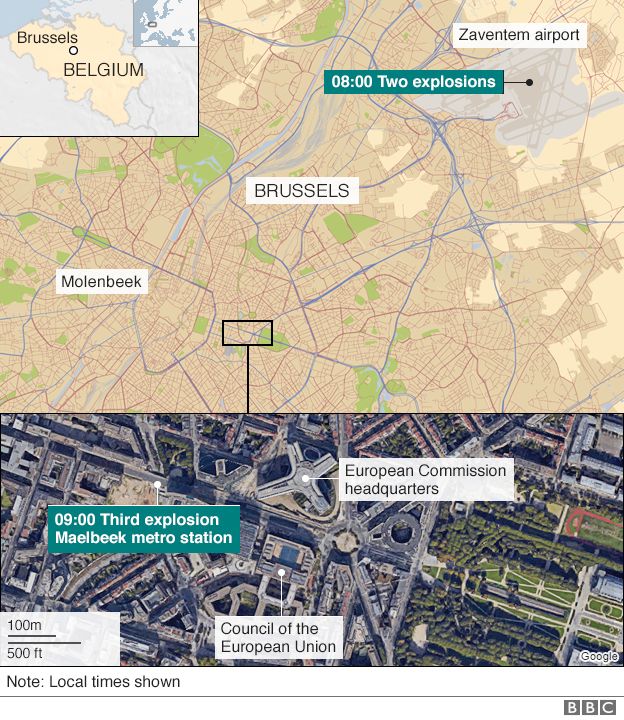 Abdeslam, a suspect in last year's Paris attacks, was wounded and arrested in a police raid on an apartment in Brussels last week.
The Belgian-born French national is said to be co-operating with police and is fighting extradition to France.
Mr Jambon told Belgian radio: "We know that stopping one cell can… push others into action. We are aware of it in this case."
How have other countries reacted?



Security measures have been stepped up in western European countries following the attacks.
French Interior Minister Bernard Cazeneuve said an extra 1,600 police officers had been deployed to train stations, airports and border crossings. France has been on alert since 130 people were killed in attacks in Paris last November.
British airports and transport hubs are also increasing security as a precaution and Prime Minister David Cameron is convening the UK government's Cobra emergency committee, which brings together ministers, police and intelligence officers.




The UK's official terrorist threat level remains unchanged at "severe," the second-highest level on a five-point scale, meaning an attack is highly likely.
German authorities have stepped up security measures at airports, train stations and the borders with Belgium, France, the Netherlands and Luxembourg, a spokesman for the federal police said.